Last week, a Presentation Studio team headed West to the remote city of Karratha, WA. Matt Baker (Presentation Studio's Growth Director) and I teamed up with the incredible filmmakers at Coloursock for this exciting project. The week saw us waking up before dawn, 4WDing through deserts and interviewing people living in some of Australia's most fascinating places.

This adventure was for a great cause: the work of EPIC, a non-for-profit organisation working in the Pilbara region. EPIC stands for Empowering People in Communities, and that's exactly what they do. As a disability services provider, EPIC supports individuals through a wide variety of programs and initiatives. Bringing much needed community and support to people living across the Pilbara, EPIC's work deserves to be heard about _?_ and that's where we come in!
Presentation Studio was briefed to create four short films, promoting the work of EPIC and inspiring others in the disability services career. These videos aim to break down stigma, educate, and tell important stories which are not often heard.
With this brief in mind, and our Akubras in hand, Matt, myself and two videographers jumped on a plane and made the long journey to WA. The week was spent in Karratha, and some surrounding communities, more than 1500km north of Perth. We visited Roebourne, an isolated town with a population of 900 and an array of socio-economic challenges. Dampier and Wickham were also included in our tour of the area, across vast red plains scarred by mountain ridges. Even in Autumn the temperatures were in the mid 30's. The locals informed us that this was _??lovely cool weather'. However, as city-slickers from the East, we certainly felt like we earnt a cold beer at the end of each day!
Over the week, scripts had to be re-written on the fly as we met with real people and tried to tell their stories with authenticity. Together, we overcame creative and practical issues _?_ from drones which fell out of the sky to last minute changes in the cast. Collaborating with the Coloursock team was a wonderful opportunity to use Presentation Studio's storytelling skills in a high-level creative context. We sourced local talent for on-screen roles and voice overs, which was a challenging and rewarding experience, let's just say _?_ _??Karratha's Got Talent'! Our team, in particular myself as the script-writer, had the opportunity to stretch our ability and achieve new things. From interviewing and directing, to last-minute script changes, shot-list wrangling and time management _?_ we had a lot on our plate.
The EPIC team had great things to say about their experience working with our team. They have already come back with positive feedback about our flexibility, creativity and positivity! This is a huge win, and we absolutely loved our time with EPIC. An on-going partnership is in the works, which is no surprise given the success of this initial collaboration! It's an honour to be able to tell EPIC's stories.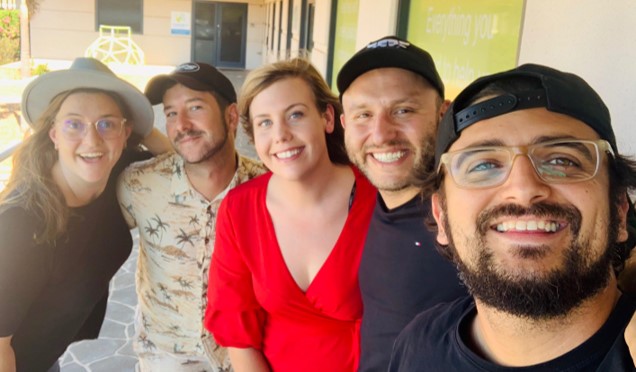 After a week of 13hr days, problem solving on set, a lot of laughter and chicken schnitzel for dinner every night _?_ the team has slept off our desert adventure and is ready to move into the final stages of delivering this project. We're hanging up our Akubras for now, but are ready and waiting for our next call to Karratha.